Perhaps it's just the blogs I read but it seems like more people than ever are thinking of making gifts this Christmas.
There are lots of suggestions out there for making biscuits, cakes or jams, or knitting or crocheting something pretty — but if you're after a truly frugal Christmas, all those ingredients & yarns add up: what about things which you can make by reusing/recycling/upcycling things from around the home?
Here are my favourite ideas for simple & frugal upcycled Christmas presents:
1. Hankies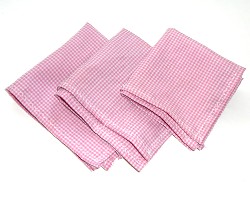 Handkerchiefs are easy to make from any soft old cotton fabric – bedding or clothing for example. They're simple but always useful – and help the recipient cut down on their disposable tissue usage too.
Don't feel they have to be boring white – I made the ones in the picture out of an old pink gingham shirt – and consider monogramming/embroidering them to make them extra special.
(Use 100% cotton fabric where possible and 100% cotton yarn too so that they can handle being washed at a hot temperature if needs be.)
Continue Reading →