How can I reuse or recycle old sofa foam/foam cushions?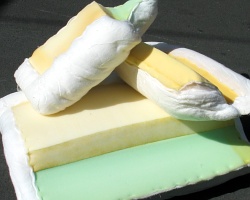 We've got a reasonably large pile of old upholstery/sofa foam – some flat and square, other bits random shaped.
We dismantled a very old (but beloved) sofa at the weekend – some of our collection came from that, with other cushions/padding from other people getting rid of sofas/cushions, or ones that have been used as padding during house moves at one time or another.
We've used some of the foam cushions to make a little sheltered bed in our greenhouse for the local stray cat but don't know what to do with the rest of it.
Any suggestions?
Related Categories
household
,
items
Search for other related items