How can I reuse or recycle old house keys?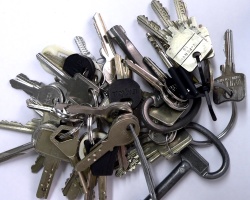 I've had an email from Jory, asking for suggestion about what to do with "a ton of old house keys".
We've got a number floating around too – not just house keys but old bike lock keys and other misc keys that are probably for something really important we just don't know what.
So any ideas?
Best Suggestions
Reuse: Lots of people have suggested using them as different type of decorations and jewellery – and if you don't want to do that, there are a number of different artists collecting them (see below).
Recycle: If you'd rather recycle them for charity, they're collected by a number of charities – for example Keys For Kindness in the US.
See the comments below for more suggestions and ideas
(Photo by irizarry)
Related Categories
household
,
items
Search for other related items