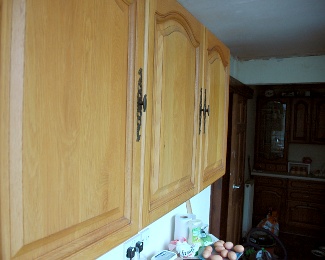 Yesterday, I posted a question from James, asking for ways to reuse or recycle a whole kitchen, because he's getting a new one. Thanks to everyone that has commented about that!
At the bottom, I mentioned reducing is the most important part of the recycling triangle. James already seems quite set on getting a new kitchen but other people approaching a similar "new kitchen?" position may want to revamp what's there rather than starting again. By "other people", I mean me ;)
Our kitchen is also 15+ years old, is looking rather tired (especially as half the kitchen has one cupboard design, the other half a different one) and the far end is generally pretty dark (as is obvious in the picture!). We did a few things to freshen it up when we moved here two and a half years ago such as repainting the walls a more neutral shade and replacing the very scuffed, dark green hob & sink with lighter alternatives (thanks eBay for second-hand bargains for both!).
More recently (as this week – it's still drying), we've had the nasty grease-attracting spiky artex ceiling reskimmed so once painted, that'll look fresher and as well as redecorating again, we're going to add some tiled splashbacks (since there aren't any at the moment – mucky walls a go go!). We're hoping to find a replacement for the badly fitted dark vinyl flooring too and improve the lighting somewhat. Will it be as nice as a new kitchen? No — but it'll hopefully be good enough and more practical so we won't need to decorate again for a good while (I hate decorating). I don't think I have the skill or space to do an adequate job of repainting the cupboards (which would make the mismatched doors more uniform) but I'm hoping everything else will freshen it up enough.
Have you revamped an old kitchen to save replacing it? Do you have any tips or suggestions?
Did you include any reclaimed, recycled or upcycled elements in your "new" kitchen? I'd love to hear your stories for inspiration!