How can I reuse or recycle plastic carrier bags?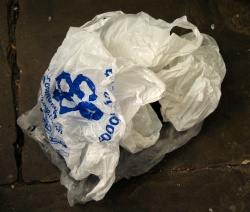 I know, we all hate them with a passion. But despite taking cotton bags when we go shopping (most of the time…) and using them as bin liners, we still have about seventy-nine billion plastic bags in the house.
We have two of those bag tidy things full, another load wedged between the freezer and the wall, and then ones from clothes shops and the like in the bedroom (because they've yet to walk downstairs yet).
What, oh what, can we do with the accursed things?

Best Suggestions
Reduce: Always carry a reusable bag with you so you don't collect any more. Either reuse existing plastic carriers (fold them into a triangle for neat & easy transportation) or stronger cotton/jute shopping bags — you can even make your own strong cotton bags from old clothes or pillowcases.
Reuse: Use them again and again as shopping bags to avoid collecting more! Also, use them as bin liners, keep your feet dry in leaking shoes/boots or crunched up to cushion delicate items in the post. If you're crafty, you can turn them into plastic ribbons for crochet/knitting, make them into non-absorbent rag rugs or fuse them together to make new, stronger carriers.
Recycle: Most major supermarkets have plastic bag recycling bins and many local authorities collect them at the kerbside too.
Related Categories
household
,
items
,
packaging
Search for other related items