Last September, Karen emailed us about the vast collection of novelty jester hats that her boyfriend had collected at various carnivals and festivals over the years. She wanted to know how she could reuse or recycle them as she hadn't had much success giving them away.
Lots of people made suggestions – including trying to give them to local schools/drama groups/groups that did clowning classes or making them into a purse or tea cosy – but Karen loved Meg's suggestion of turning them into bunting/pennants:
Last year I sent an email about novelty jester hats and of the suggestions was to make a string of decorative pennants, like the kind for birthdays (the upside down triangle). I did this and am pretty proud of the result!!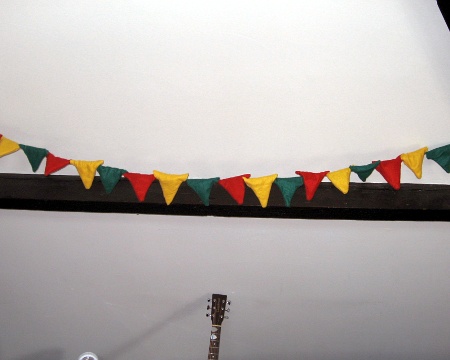 Oh very fun! Great work Karen – and thanks to Meg for the suggestion in the first place! :D
I do love to see what people are reusing and recycling – especially if they've been inspired by something on the site – so if you've reused/recycled anything in an interesting, clever or fun way, please do get in touch :)