How can I reuse or recycle old jeans?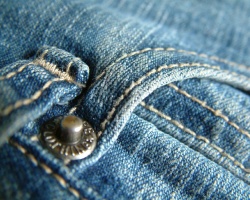 I've got a pair of jeans that I've had for years.
They were one of those 'best friend' pairs of jeans that I lived in for a couple of years until they started to give away at critical areas (read: the bum and that vague, important area).
Then they got relegated to decorating pants since I wasn't bothered about those helping me decorate see my derriere and so are now both holey and covered in paint splashes – a few years ago that would have made them the height of fashion I'm sure, but not now.
As wearable jeans, they're not really wearable any more but the denim in the non-holed places is still good and inside out, there are only a few paint stains.
So what can do I do with them now? How can I reuse the good bits of denim?
Best Suggestions
Reduce: Buy the best quality jeans you can afford – they won't wear out as quickly as cheap ones. Learn how to patch holes and tears so prolong their lives even further, or if the tears are in the legs, cut them down into shorts. 100% cotton jeans can also be dyed quite easily if you fancy a change.
Reuse: The denim can be repurposed for lots of crafty uses – the legs can be turned into aprons, the bum into bags (with readymade pockets!). See the links suggested below for more suggestions.
Recycle: Add them to the rag bin at your local household waste site – if they're still wearable, they'll be redistribute abroad and if they're not, the cotton will be reclaimed for industrial use. A company in the UK also turns old jeans into sandals.
See the comments below for more suggestions and ideas
(Photo by nicholasc)
Related Categories
clothes and fabric
,
items
Search for other related items