How can I reuse or recycle VHS video tapes?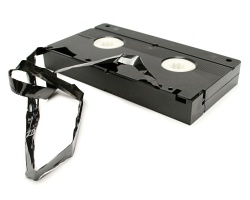 I've always been a film fanatic and amassed quite a collection of videos over the years until DVDs came along. Most of my pre-recorded ones were given away and the ones we recorded ourselves went to live in the attic along with the VCR itself. A couple of years on, they're still up there.
I hadn't thought of them though until I posted the blog on televisions a couple of weeks ago then Brian emailed to say he had a similar collection of now-redundant tapes too – and now here we are: how can we reuse or recycle video tapes?

Best Suggestions
Pass Them On: offer pre-recorded videos to your local charity shop or on Freecycle – not everyone's made the switch to DVD and it's a cheap way for them to pick up entertainment for free/cheap. Some charity shops don't accept them any more because no one buys them – it differs from shop to shop and between areas.
Reuse: Crafters have used the tape for crocheting or weaving. The resulting fabric if often used for retro-style bags or purse. Gardeners also use strips of video to deter birds from attacking seedlings.
Recycle: Some recycling schemes do exist but they tend to be private and only available in a limited area (due to postage/transport costs). Details of some schemes are below.
See the comments below for more suggestions and ideas
(Photo by vierdrie)
Related Categories
household
,
items
,
technology
Search for other related items