How can I reuse or recycle a wooden shoe rack?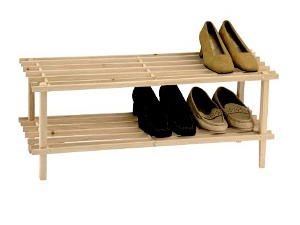 There was a neighbourhood "give and take" event near me at the weekend – people took along their unwanted items and took home anything other people had donated that took their fancy — all for free. It was mostly small things – crockery, household knick-knacks and books – but there were some larger things too – old TVs and other electronics, rugs and other bits of furniture.
We didn't "take" anything in the end: I was tempted by a pretty coffee pot from the kitchenware table until John pointed out that we already have one which we don't use, and I was also VERY tempted by a lovely black cat who was keeping an eye on the proceedings, though I'm not to sure he'd have been happy to be taken. But we did give away a box of things we no longer needed, and it felt good to have a clear-out.
I did though rescue a simple wooden shoe rack from the "to go" pile at the last minute. I thought it had been thrown out when we replaced it in the porch with built-in cubbies but apparently it had only made it as far as the garage. As it hit the "to go" pile, I declared I could think of "a thousand" uses for it here and demanded to keep it. Thankfully John didn't ask me to list the full thousand but my brain did start ticking away.
My first ideas were it being a shoe rack in other places in the house — something that's especially useful coming into winter where there are invariably muddy boots and shoes near every door. Or there is always stuff in the kitchen to go into the garden – I could put shoes on one shelf and have the other shelf for flower pots and what not.
Speaking of the garden & pots, my greenhouse staging is awash with empties at the moment – some extra (albeit small) shelving would be useful in there, and in the spring/summer, it could be useful for holding plants – hopefully the slats would discourage some slugs too. Or I could mount the shelves from the shoe rack onto a wall with strong bracket to make a new potting bench – perhaps with tool hooks underneath.
I made a similarly slatted "tray" for drying homemade soap and before we moved here, I used the very shoe rack in question in the "jumpers" part of my wardrobe as an additional shelf (so they all weren't piled up in one big heap and the slats allowed air circulation).
Flipped onto an end and lined with an old pillow case, it could be used as a laundry basket and if it was sturdier, it might make a good bench for children.
So that's about nine alternative ideas – any suggestions for the other 991 reuses? :)
Related Categories
household
,
items
Search for other related items