How can I "repair" too runny/too solid homemade jam/jelly?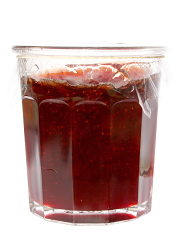 It's very definitely jam season at the moment (in the UK at least) and I thought it might be fun to hear people's favourite fixes for sticky situations (ho ho!) when the preserves don't come out quite as you'd hoped.
How do you test for the set point? The most common method seems to be the "when it wrinkles on a cold plate" test but anyone use any other methods?
What do you do if it's too runny once in jars? Or too solid?
And, not quite in the question but related, do you use/reuse anything interesting instead of commercial-bought pectin?
And any tips for reusing old jars? Reusable alternatives for waxed discs?
Finally, what do you do with jam that can't be saved – stuff that burnt in the pan for example?
("Why is this on Recycle This?" I hear you ask because it is a little tenuous as a "repair". Well, one, because with the giant piles of fruit in our kitchen at the moment, I've got jam on my mind. And two, because jam failures may lead to food waste – and if we can save some rescueable jam from going in the bin, that's a good thing.)
Related Categories
food
,
repair this
Search for other related items