Recycled Christmas – upcycle trash into handmade presents
Perhaps it's just the blogs I read but it seems like more people than ever are thinking of making gifts this Christmas.
There are lots of suggestions out there for making biscuits, cakes or jams, or knitting or crocheting something pretty — but if you're after a truly frugal Christmas, all those ingredients & yarns add up: what about things which you can make by reusing/recycling/upcycling things from around the home?
Here are my favourite ideas for simple & frugal upcycled Christmas presents:
1. Hankies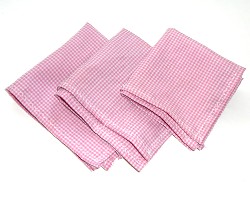 Handkerchiefs are easy to make from any soft old cotton fabric – bedding or clothing for example. They're simple but always useful – and help the recipient cut down on their disposable tissue usage too.
Don't feel they have to be boring white – I made the ones in the picture out of an old pink gingham shirt – and consider monogramming/embroidering them to make them extra special.
(Use 100% cotton fabric where possible and 100% cotton yarn too so that they can handle being washed at a hot temperature if needs be.)

2. Reusable shopping bags
Similarly practical, there are one metric bajillion tutorials out there for making fun shopping bags from pillowcases, t-shirts, scraps of yarn, old plastic carrier bags… You name it, you can make a shopping bag out of it!
Pick your poison depending on your skill set and again, customise/personalise it to suit the recipient.
If you're giving them other presents at the same time, use the bag instead of wrapping paper to save even more waste.
3. Jewellery
We regularly feature ace examples of upcycled jewellery on here – people taking food packaging and other waste materials, and transforming them into wonderful bracelets, necklaces, earrings and other accessories.
If inspiration isn't enough, there are plenty of tutorials out there too – for example, turn a drinks can into a flower brooch, or plastic bottle earrings, or a bottle cap charm bracelet.
4. Wooden garden planters
If woodworking is more your thing than sewing or jewellery making, turn old pallets or other scrap wood into wooden garden planters. They're easy to work with and widely available – keep an eye out when passing skips or in industrial areas.
5. Raid your seed stash – make envelopes & plant labels from scrap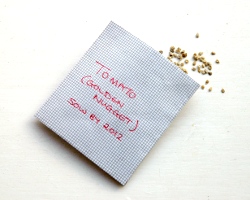 And what about something to go in those new planters? If you grow your own flowers or veg, you probably have a stash of surplus seeds – share your favourites!
Make small seed envelopes out of scrap paper – the insides of security envelopes or brown paper look fab – and write the sowing details on the outside – and how about including an upcycled plant label too? You can make those from lolly sticks or metal strips cut from drinks cans.
6. Personalised notebooks
Or how about making a notebook/journal from an old hardback book? Personalise it by finding something by your gift-ee's favourite author – or a favourite book from childhood.
What are you making people for Christmas? What are your favourite upcycled handmade items? What would you like to receive from other people!?
Related Categories
art & crafts using recycled stuff
,
Christmas
,
clothes and fabric
,
household
,
paper & stationery
Search for other related items