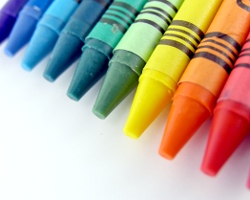 We asked about stuff to reuse/recycle as homemade soup moulds not too long ago but Danell has messaged with a variation on that theme:
I want to melt old crayon stubs together to make new crayons for kids. I know I could use old muffin tins or ice cube trays, neither of which I have, but I was wanting them in a little more interesting shapes. I've seen them made in candy molds, but again, I don't have any. Any ideas?
A lot of the soup mould ideas we had resulted in practical rather than interesting shapes – but I'm sure there are interesting shaped potential moulds out there too :) I'd look to kid-related packaging – sweet (candy) packaging or toy packaging which is formed plastic around a shape. With Easter coming up, there might be a few egg or bunny shapes floating around for reuse.
Another idea might be to make your own moulds: I suspect Danell doesn't have all the time in the world for carving intricate shapes but — and this is a complete I-have-no-knowledge-about-this suggestion — could they be made from something like salt dough? Could you make a sheet of salt dough in a baking tray and press fun shapes into it – again toys or magnetic letters – then varnish it to use as a mould? Please feel free to correct me if that wouldn't work!
One thing to remember – there needs to be a balance between interesting shapes and usability. I've seen some new crayons made in star shaped moulds but I imagine the pointy bits would hurt small hands and be a bit awkward to hold too.
Any other ideas? What have you used for interesting shaped moulds — whether for crayons, soap or sweets? Have you made your own moulds from anything in particular?