How can I reuse or recycle 35mm film canisters?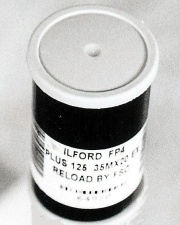 I know digital cameras are usurping their existence now but we've still got a large number of these little pots lying around the house.
I also vaguely remember that these little items were subjected to months of discussion on the Guardian letters page a year or so ago – but I can't remember any of the suggestions other than using them for salt and pepper for camping trips.
So can anyone else remember any of the suggestions or does you have wonderful ideas of your own?
Best Suggestions
Reduce: Moving to digital cameras obviously cuts down a lot of waste – these canisters, the films themselves, the chemicals used for developing and printing every single photo, good and bad – but they do have their own resource costs – particularly if you upgrade often.
Reuse: Because they're small and tightly sealed, a lot of people use them when travelling or camping – use them for vitamins & prescription tablets (although take your prescription too if you're going overseas because they sometimes ask), small amounts of toiletries, jewellery, or even food condiments.
Recycle: Lots of schools and other organisations use them in art classes and the like – see below for specific people collecting them or offer them to teachers locally.
See the comments below for more suggestions and ideas
(Original photo by Underdog80)
Related Categories
hobbies
,
household
,
items
Search for other related items