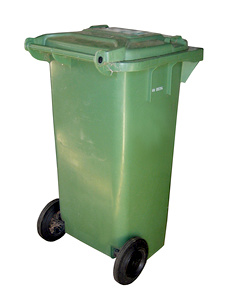 Hi. Long time no blog! Sorry about that.
This has annoyed me so much though that I feel compelled to post!
Bradford Council has started charging for their previously free garden waste collection service. Only about a third of eligible household have signed up so the Council estimates there are around 55,000 "brown bins" no longer in use around the district.
The Council estimates around half of those 55,000 will want to keep their wheelie bin as a spare or for other usage, and are starting to collect the other half.
However, a local councillor doesn't think that many people will want to keep them. Cllr Rebecca Poulsen, the local Tory spokesperson for waste, said:
"I can't see most people wanting to keep them for other storage purposes, really.

"I can't think there's an awful lot to do with them."
Then you don't have much imagination, do you Rebecca!
On our allotments, old wheelie bins are prized possessions – a couple of holes drilled in the right places and they easily become sturdy water butts or compost bins.
They're also cheap, dry storage for plant pots, canes, plastic sheeting & netting, and woodchips.
At home, I use old bins for storing my chicken feed and my in-laws use them, with an access hatch cut in the bottom, for storing firewood and multifuel.
And they're not just for grow-your-own hippies like me: I know other people who use them for storing kids garden toys, sports equipment and patio cushions out of season.
And they're just some of the easiest, most boring reuses!
I've seen them cut in half to be used planters or wheelbarrows, and my old neighbours in Leeds even once transformed an old wheelie bin into a go-cart!
What other ideas are there for reusing wheelie bins? What would you do with one?