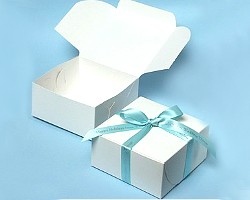 We've had an email from Rosey:
We just got married (yay!) and while we tried to keep the waste to a minimum, we have ended up with about 100 personalised wedding cake boxes leftover. Not sure how that happened! They're just card but I'd like to reuse them anyway but didn't know what to do since they've got our names and wedding date on them. Any ideas?
Are they pretty card (unlike the boring white ones in the picture)? If so, the non-customised bits could be reused for any general craft purposes. Although like with wedding dress we discussed a few years ago, it would be nice to use it for keepsakes rather than just … I don't know, very fancy shopping lists ;)
Could they be turned into postcards for wedding present thank you notes – or used to make a "thank you kit" (a couple of small photos and a note)? A friend of mine sent out cheap USB storage keys with lots of photos from the day on them – candid snaps from friends as well as official ones – and a cake/favour box would be the perfect size for that.
Or to be super cute, how about splitting them between the two of you and writing each other messages for your future anniversaries – predictions of what will be or "IOU" promises for the long distant future?
Any other suggestions?