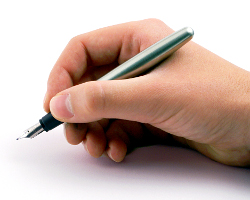 Mary has asked a fun question:
I have a bit of a dilemma. I'm from Minnesota USA, and I have a pen pal in California. We love sending "snail mail" to each other in this day of somewhat impersonal emails/Facebook. While it's very fun, I've recently been thinking about the waste. I keep the cards she sends me, but is there a way to purchase/make more eco friendly cards and envelopes? Thanks!
I've been thinking about going back to snail mail for keeping in contact with some people recently (to cut down my computer time) so this is a very well timed question!
You certainly can buy cards and envelopes made by upcycling old paper – old packaging, old maps, old books – all sorts of stuff. If you search for "recycled envelopes" on Etsy, you'll see the range of stuff available (including ones from friend of Recycle This, SwirlyArts.) You could make your own if you're that way inclined too.
Look around your home/office to see what you can reuse as writing paper – on my desk in front of me right now, I could use the white-side of some pretty-designed security envelopes, a brown paper bag or if I was feeling more delicate than I generally am, an old sewing pattern. I'd probably cut them neatly with a guillotine or straight scissors, but scrapbookers/papercrafters with the tools on hand could jazz them up with wavy scissors or punch designs. One pre-cut idea might be to use old blurry photos – the type that aren't suitable for the photo album but look pleasantly abstract by themselves.
Another idea might be to use cards that will serve a different purpose once they arrive with your message – the most obvious idea is picking ones that are so pretty that they can be framed as art, either individually or if you fancy something bigger & bolder and a fun ongoing project, you could make your own large scale design (perhaps by decorating/upcycling card/cardboard packaging) and chop it into card size pieces for gradual reassembly at the other end. More practically, you could find/make a design for recipe cards or dividers for a seed box (or anything your penpal might use for a hobby) – print it on one side of your card/paper and write your message on the back.
A finally suggestion/question from me: it is, of course, better to Reduce than reuse or recycle – would it be possible to make a secure reusable envelope/pouch that could be sent back and forth? If it can be made from existing materials all the better – any ideas?
Any other suggestions for Mary?