How can I reuse or recycle used envelopes?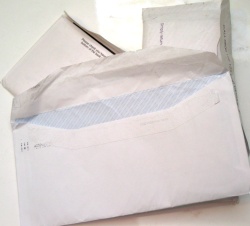 Every day, you're there, waiting for me on the door mat. With your too-well-stuck-down-flap and your usually pointless contents. And most of the time, you have a little shiny plastic window too, which makes me worry about putting you in the paper recycling bin.
Why do you torment me so, envelopes?
What can I possibly do with you that would make me hate and resent you less?

Best Suggestions
Reduce: Avoid junkmail in the first place by getting your household taken off marketing lists (and don't sign up for any more). Also, sign up to paperless/internet billing where you can for your utility bills, bank statements and the like.
Reuse: Use them as seed envelopes, as filing pockets – or taped underneath drills to catch falling dust. Security envelopes with patterned insides can be used in crafts.
Recycle: Some paper recyclers ban envelopes because of the plastic bits and glue – ask to see if your provider accepts them.
See the comments below for more suggestions and ideas
Related Categories
household
,
items
,
office
,
paper & stationery
Search for other related items