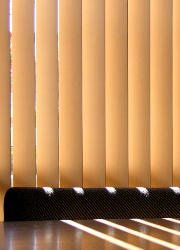 Someone on my Twitter feed yesterday – I can't remember who, sorry – asking about ways to recycle or reuse the material from vertical track blinds.
My first – instinctive – reaction was "bleugh!" because I hate the feel of those blinds ;) My second thought was "good question!"
We had lots of great ideas for re-using the slats from Venetian blinds so what about vertical blinds?
The fabric is usually synthetic and a little rigid & scratchy (hence the bleugh!) so not ideal sewing material but I'm sure those attributes could be strengths in some projects. The strips of fabric are usually about 10cm/4inches wide and as long as the window drop (so typically at least a metre or so).
On the slat blinds post, chez suggested using vertical blinds to make a shopping bag — weaving the strips together. They could also be woven together to make a protective mat – or even a picnic blanket type thing if you're not so phobic of the fabric as me :)
Have you reused or upcycled vertical blinds in any way? What would you do with the material?