How can I reuse or recycle egg shells?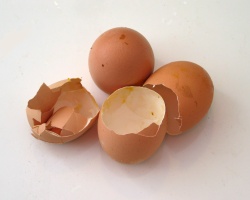 I was feeling a little poorly the other day so we had the standard unwell tea: chucky eggs and soldiers*.
The military men and their ovoid shaped compadres did their work and by the next day, I was up and around again – wondering what to do with the remaining egg shells.
I have used broken eggs shells in the garden in the past, to try to deter slugs and snails from my seedlings but I don't know if it was worth it since the molluscs seemed to get through anyway. So does that actually work?
And are there any better uses for them?
(* boiled eggs and toast sliced thinly so that it can be dunked in the aforementioned eggs if the yolks are soft enough)

Best Suggestions
Reuse: Crush them up and use them to deter slugs and snails from attacking your precious seedlings – they don't like the rough surface so won't cross a barrier made from shells.
Recycle: A beautiful bit of recycling – bake the shells (to kill any bacteria) then crush them up and add them to chicken food/grit. The chickens reabsorb the calcium and other minerals from the shells and use them to create new eggs!
See the comments below for more suggestions and ideas
Related Categories
food
,
items
,
packaging
Search for other related items