How can I "reuse" fresh eggs that we can't eat?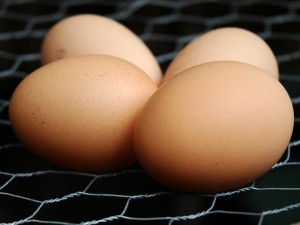 (Hi! Sorry to regular readers for the stupidly long break in posting – I've been reading all the comments as usual as they come in, just not posting any new content myself due to a combination of busy-ness, illness and laziness. I'm hoping to get back to regular scheduled blogging again now though!)
This question is a bit like the one I posted six years ago (!!) about ways to use up no longer fresh eggs but this one is a little different. We've got our own chickens now so always have super-fresh eggs – but sometimes, like this last weekend, I have to give them medication or treat their coup with things that mean we shouldn't eat their eggs for a few days.
The eggs look perfectly fine but there is a risk of contamination so we can't eat them. I can't bring myself to just throw them in the compost though – or even throw them at my boyfriend when he's not paying attention… ;)
I know egg yolks can be used as a hair conditioner or for a face mask – does anyone have any favourite recipes/techniques?
I've also heard some people using them as a fertiliser boost for plants – do any plants particularly benefit from an eggy treat (especially at this time of year), or is there any that definitely shouldn't have it?
Any other suggestions?
And finally, less on topic but critically important, did you all have a good summer? (Or good winter, if you're on the southern side of things?)
Related Categories
food
,
items
Search for other related items