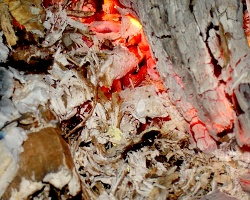 Bee has asked:
What can I do with a lot of wood ash after it has been leached? I have a large firepit, and I plan on saving and leaching the ashes… but I'm very leery about tossing that much slag ash onto the compost heap. I've found lots of info about ashes before leaching, but practically nothing about after leaching.
Funnily enough, I was riddling our woodburner and thinking about recycling ash just before I spotted this question from Bee :)
We've already covered the various different ways to reuse wood ash – from unpainted/unvarnished wood – in the garden and beyond — and one of those ways is to use it to make lye, which is what Bee is talking about here: the wood ash left after it's been steeped to make lye for soapmaking or what-have-you.
I haven't made lye myself – we just compost the ash – and like Bee, my Google-fu has failed me. I can find lots of tutorials on how-to make lye from wood ash but they all just skip from making the lye solution to using the lye, without explaining the clean up.
So does anyone know if the leftover ash is suitable for composting? I suspect it would be fine to go on a well-balanced compost heap – when "raw" wood ash is composted, the lye & salts leach away into the compost over time and the resulting compost will be alkaline but not too caustic to burn plants. The leaching process will have removed a lot of the lye so in theory it shouldn't damage your heap – although equally, there is less point in it being there because it contains less minerals than "raw" wood ash – better than being thrown into landfill but not going to add a lot of goodies to the garden. That's what I think anyway, from looking at the situation now — I am very happy to be contradicted by someone who has had experience of composting it.
Is there anything else that can be done with it? What would our ancestors – who wasted so very little – have done with it?