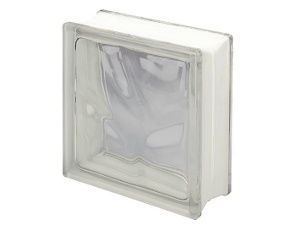 We've had an email from Whitney, asking about reuse/recycling ideas for glass blocks (or glass bricks, as they're also known):
We just bought a house and making a lot of renovations. We removed some glass blocks from an old bathroom window and I want to reuse them for something. I love glass blocks and since they didn't get broken in the renovation process I'd love to do something with them. I'd love to be able to drill holes in them and place lights for outdoor use, but don't know how to do it. I was also thinking about just placing them around the garden, but am looking for some more innovative ideas.
I love the idea of using them in the garden – for bed/path edging for example, or if you have a lot of them, as a privacy screen/divider. I imagine in time the edge seals might become damaged and bugs or greenery may creep inside but that could look pretty cool too :)
More creatively, I've seen them used effectively as the "legs" on simple tables – panels of glass blocks at each end of the table top, though I'm not sure how it was all fixed together – any ideas?
Any other practical or creative suggestions for using them either inside or outside of the house?