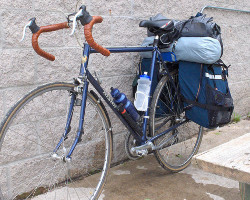 Good friend of Recycle This and The Really Good Life, Su, has got a question for us:
Bicycle panniers – mine have a really useful stretchy mesh pocket on the outside, unfortunately now more hole than mesh. Any ideas on repairing them? The actual pannier part is absolutely fine.
The summer before last, I bought some mens' shorts for myself and since I don't have things down there in need of containment, I removed the "netting" layer – that wouldn't have been pretty but would have fit the bill perfectly – stretchy white mesh. (I ended up using it in the greenhouse to store bulbs.) Can anyone think of anything else in the same vein to reuse instead? Heavy (so they won't run) nylon tights maybe?
Another idea which is less reusing/recycling but still repairing: could you crochet a flat mesh from a plastic twine using a variant on a string bag patten? I used to make a version of this bag from all sorts of different yarns when we were short of shopping bags – makes up very quickly because it's so much hole :)
Any other ideas?
(Photo by arifm)