How can I reuse or recycle plastic water bottles?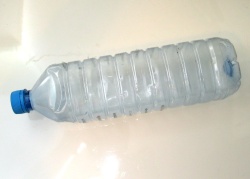 Last Friday, before setting forth on an expedition that would involve standing in the sun and shouting for a long time, we decided to gather all the water bottles in the house and refill them to take along.
We're not fans of bottled water and only buy bottles when we're in a bind, so it was quite surprising to see how many we had accumulated around the house.
We only need so many for reusing as water bottles* for over the summer so what can we do with the rest? What are your favourite reusing or recycling ideas?
* refilling old bottles, I should add, is strictly forbidden, according to notes on the labels of the bigger brands. So don't do it! don't! ;)

Best Suggestions
Reduce: Install a water filter at your home and carry a refillable container with you so you don't need to buy water wherever you go.
Reuse: Use it instead of a water-displacement brick in your toilet cistern to reduce the excess water flow. Or cut the top bottom off and use it as a mini-greenhouse for your seedlings in the garden.
Recycle: Most water bottles are PETE (Number 1 plastic) which is widely recyclable so you'll probably be able to recycle it with your other plastics.
See the comments below for more suggestions and ideas
Related Categories
items
,
kitchen
,
packaging
Search for other related items