How can I reuse or recycle fruit stones and pits?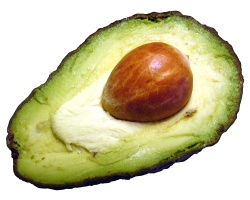 We went out for a Mexican meal the other day (mmm, mexican food) and while eating a giant pile of guacamole (mmm, guacamole), we had one of those wonderings about what must happen to the many, many leftover avocado stones. From that, our wonderings went onto other fruit stones – what could we do with plum stones, or peach pits?
They could be planted to grow a new fruit plant (although trees from seeds don't tend to be that productive) or composted (they'd take a good while to break down) but aside from that, are there any fun ways to use them? What do you use fruit stones and pits for?
Avocado stones are usually beautifully smooth so could they be made into (GIANT) beads? Any other suggestions?

Best Suggestions
Reuse: Some people use them for crafts – but they need treating so they don't dry out.
Compost: The stones will compost – eventually. If you want your compost quickly or to be very fine, consider leaving them to break down somewhere else first before adding them to your main pile.
(Photo by tpacific)
Related Categories
food
,
garden
,
items
Search for other related items