How can I reuse or recycle bonfire ashes?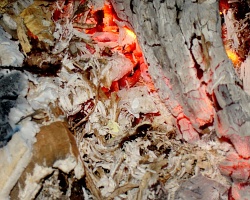 It's Guy Fawkes Night in the UK today and so all over the country people will be eating toffee apples, warming their hands on the glow of a bonfire and making things go BOOM.
I'm not a great fan of Bonfire Night – I don't like apples, I have a (what I consider to be healthy) fear of fire and we've had fireworks going off on our estate for the last month (mostly in daylight… I … don't understand) so the novelty has somewhat worn off – but most people seem to dig it so come tomorrow morning there will be lots of left over ashes in gardens up and down the land.
So what can you do with them?
If you're reasonably sure the wood (etc) burned in the fire was untreated/unpainted then the ashes can be composted – but too many will turn the heap too alkaline. It can also be used as a fertiliser – but with the same precaution.
Any other ideas?
(Photo by ma_makki)
Related Categories
garden
,
household
,
items
Search for other related items