How can I reuse or recycle veg boxes?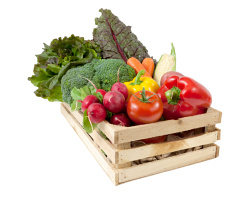 Krystyna left a comment on the Suggestions page asking:
I've just had my first veg box delivery and was wondering if anyone had good re-use suggestions for the wooden veg boxes…?
First off, reduce – you should probably check with your veg box company to see if they have a scheme to take them back and reuse them as veg boxes. They might be able to collect old ones when they drop off new ones.
If that's not possible, cute vintage apple boxes sell for a mint on eBay so if they're nice, one idea might be to keep hold of them for 50 years then put them on eBay in 2060 ;)
More practically, my dad used to use those sort of boxes in the garden – as trays for holding pots of plants and for storage – and they're great as veg storage boxes too funnily enough – people who grow their own root veg will probably be particularly interested in them (offer them on Freecycle/Freegle if you don't grow yourself).
They'd be perfect for storage in general around the house – if they're like the ones I've seen, the wood might be a little cheap/rough for fine/snaggable items but sanding & painting might take care of that.
And if all else fails, they'd make great kindling for anyone with an open fire/stove (assuming they've not been treated with anything to protect the wood).
Any other suggestions?
Related Categories
food
,
household
,
items
,
packaging
Search for other related items