How can I reuse or recycle plastic recycling boxes?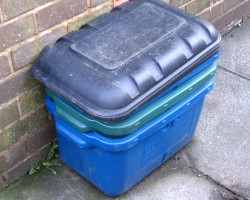 We've had another suggestion from the wonderful Am (Delusion), and it's a bit of a meta one:
As our council have changed our curbside collection from collection boxes for paper & bottles etc to now using our old black wheelie bins, I thought of what could be done with the old recycle boxes.

The council will recycle them and so they can be taken to the Household Waste Centre, however I am sure they can have some more uses!

I have managed to acquire 6 so far, as I am going to use one for storage of plant pots, another three are going to be used as large trough plant pots for my new Wildflower seed mix and another two are going to have their bases sliced off and buried in my borders to contain my very invasive poppies.

Any other suggestions?
I'm going on a mint growing extravaganza this year to sate John's new obsession with mint teas and they (well, the rest of the garden really) would benefit from growing in troughs like that. We're also constantly on the look out for lidded boxes as part of our ongoing quest to cat proof the cellar (aka the pee war ground between our cats & the neighbour stray: yes, it's pleasant). But anything a bit different?
Related Categories
household
,
items
Search for other related items