How can I reuse or recycle cosmetic compacts?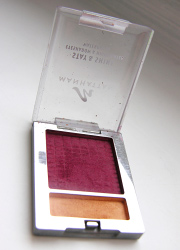 We featured make-up itself a while ago and have also looked at mascara wands and nail varnish, but Annie G has come up with a clever idea for old pressed powder compacts:
As I was coming to the end of my blusher I wondered what I could do with the plastic container afterwards and had a great idea. I travel by train regularly and found the empty blusher container makes a compact and secure travel case for flattish earrings.
That is a great idea – I always need a little baggie or something to keep my earrings in when we're going away, but that's a better idea because it's solid and I'd be less likely to squash them by mistake.
Any other clever ideas for them though?
(Photo by esrasu")
Related Categories
bathroom
,
items
,
packaging
Search for other related items