I don't know about you but I'm itching to get a start on spring cleaning this year – or rather spring decluttering – and as well as getting rid of a whole bunch of stuff, I'd like to have better, neater storage for the stuff I have.
Here are some of the ways I'll be making recycled storage solutions from rubbish around our home:
Cereal boxes (or scrap cardboard) into magazine files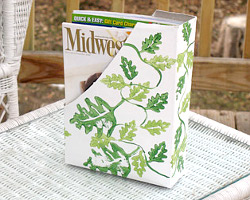 We have approximately eleventy-hundred tons of paper in the house at the moment – even if half can be thrown away, that's a whole lot of stuff that needs filing.
Cereal boxes make quick and easy magazine holders – for magazines, notebooks or just papers. Paint them or cover them with pretty paper (or newspaper for a more modern look) to coordinate with your decor/hide your addiction to Coco Puffs.
If you need them to be a bit sturdier, it's also easy to make your own magazine files from scratch from any scrap cardboard.
Wall mounted storage cans
Lee Meredith turned some coffee cans into fun wall mounted yarn storage – and the same principle can be applied to any cans. They can also attached in the same way but mounted vertically to store other things – like pens, paintbrushes or kitchen utensils.
(I just showed my boyfriend John's Lee's yarn pics and he said "phwarr!" and pointed out that if you attached the cans to the walls with stronger screws, you could use them as fun and functional brackets for shelves.)
Storage boxes made from old magazines or newspaper
Old magazines or newspaper can be transformed into storage in a number of different ways – layered up to make mini-hat boxes, coiled into open bowls, or woven into a useful open box for storing … more newspapers.
Continue Reading →