How can I reuse or recycle old lever arch files or ringbinders?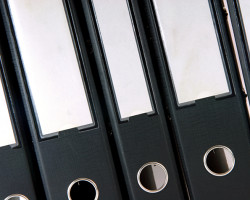 By complete coincidence, I've had a run of stationery questions over the last few days so I'm officially naming this week "Stationery Week" on Recycle This ;)
First up, we've had an email from Neil asking:
I have been asked about recycling lever arch folders and as they have three main components, I didn't know how to recycle them. Please could you advise.
I'm a little confused as I can only think of three main components – the outside cardboard folder and the metal mechanism — is there something I'm missing? Either way, I've wondered this same thing before and with plastic covered ringbinders too.
Anyone know of any recycling schemes for them as they are? I presume if the cardboard folder bit isn't plastic coated then once the metal has been pulled out, the cardboard can just go in for recycling as normal – is that the case? Can the metal be recycled too? What about the plastic coated card ones? I suspect they're very difficult to recycle – anyone know for sure?
What about crafty ideas? If the cardboard is in ok condition, I imagine you could use transform it into a storage binder .. thing. (Words failing me… it's Monday morning after all.) What I mean is, attach a pocket or strips of elastic to the inside and you could store, for example, knitting needles and the like in there — easy to browse but folds up neatly and sits on a shelf. Anyone done anything like that with it?
Other stationery items
Related Categories
household
,
items
,
office
,
paper & stationery
Search for other related items