How can I reuse or recycle small scraps of yarn?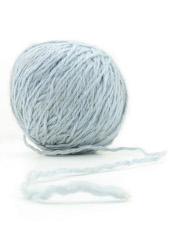 We've had an email from Lauren:
I'm a knitter but I can't throw away the ends of yarn, not matter how small! I've got a carrier bag full of ball ends, some a couple of yards long, most less than a foot. Any ideas?
The longer pieces could be used for the inner rings of granny squares if you crochet too or mini-crafts both knitted or crocheted – if you're on Ravelry, on the advanced search you can specify projects by yardage — I just did a search for projects using 5yards or less, and got over 400 results (including, I kid you not, a penis shaped chapstick holder!). The shorter pieces could be used for the odd few stitches of decoration such as eyes & noses on soft toys or tapestry/embroidery work. If you had lots and lots of shorter pieces, they could be used as stuffing for small toys.
Away from sewing & crafts, I used pretty yarn instead of string for tying up parcels etc and for clothes repair/enhancement – a little colour-clash darning, sewing on chunky buttons or used for adding hanging loops onto scarves/light jackets that come without them.
Any other suggestions? If you knit/crochet, what do you do with your scraps?
Related Categories
clothes and fabric
,
hobbies
,
items
Search for other related items