How can I reuse or recycle a lot of white yarn?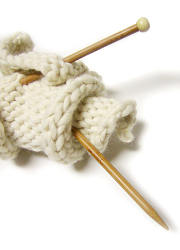 We've had another email from friend of Recycle This Petra:
From my sister in law I inherited a lot of yarn, mostly small balls of the same. I know you covered the item about the short ends of yarn and what to do with it. My question is a bit related.

A lot of the yarn is white or off-white. Not a colour I would choose for knitting a sweater for myself. And also for my kids, white is not a very
handy choice. Moreover, most of the yarn is synthetic, which I don't really like to wear and makes it difficult to paint in a different colour.
So, my question is: What can I do with that white yarn? It is a box full of yarn (20 by 30 by 20 cm).
It's not the right season to be thinking about it but my first thought was snowflake Christmas decorations (Mary Horesh recommended this crochet pattern on Twitter when she made them in December) – but if you used all of the yarn to make snowflakes, it would be more like a 10ft deep blizzard rather than a pretty delicate sprinkling of decorative snow ;)
Looking forward rather than back, I don't wear white or choose to wear synthetics either but a lot of people do – and spring & summer are the months when a little white shrug or cardigan might be useful – perhaps keep some and pass the rest on to someone else via Freecycle/Freegle or Ravelry's destash area.
Any other suggestions of patterns of things to make with it (ideally not clothes)? Or places to pass it on?
(Photo by missa88)
Related Categories
clothes and fabric
,
hobbies
,
items
Search for other related items