How can I reuse or recycle scraps of fabric?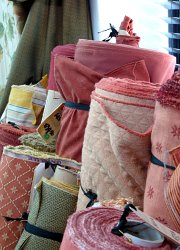 Proof that great minds think alike. An email from Lisa Chown:
We are a manufacturer of knitted acrylic accessories and end up having loads of waste fabric, from the shaping of our products, is there a way that this can be recycled rather than send it to the landfill?
And another one the next day from Katrina:
How can I recycle all the fabric remnants I have lying around?? When I worked in an Interior Design shop in London, I know a charity would come and pick up the fabric waste for recycling. I don't know who to contact…does anyone have any ideas??
And I also did some sewing on Monday night and had some tiny scraps left over and thought the same thing.
So any ideas? Fabric recycling ideas would be best for Lisa and Katrina since I suspect they'll have more than can be reused – but what about reuse suggestions for people like me? The scraps I produced were too small to be used on other projects (even patchwork/quilting) – but I guess they could be used for stuffing or things like that… right?
(Photo by CraigPJ)
Related Categories
clothes and fabric
,
household
,
items
Search for other related items