How can I reuse or recycle yarn cones?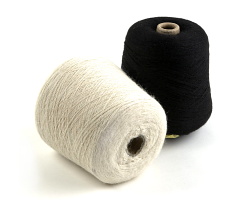 This is a bit of an anticipatory post since said cone is still currently covered in a few of hundred grammes of yarn but anyway…
Yarn/wool cones. I bought a giant cone of yarn on eBay the other day from someone clearing out their yarn stash. I thought I'd use it for for my next big crafting project, a crocheted blanket but as the yarn is, well, sunshine (read: oh-my-God-so-bright) yellow, I'll have to get another one in a less retina-straining tone to calm it down a bit – and that means I'll then have two of these hollow cones.
The one I've got at the moment is about 20cm (8″) tall and tapered to around 7cm (3″) in diameter at the base from around 2.5cm (1″) at the top. It's made of heavy duty cardboard – so recyclable – but you know me*, I prefer to reuse instead of recycle. I've also seen a lot of similarly sized plastic cones about which aren't so easily recyclable.
Since it's a craft-related item, I'm sure there are loads of crafty reuses – but what about practical things too?
* if you don't know me, hi, I'm Louisa. I like to reuse and repurpose random things. It's nice to meet you.
Related Categories
hobbies
,
household
,
items
Search for other related items