How can I reuse or recycle packaging cushions?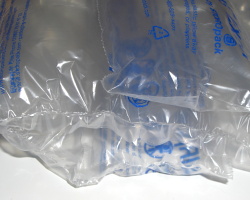 We got some computer hardware bits delivered a few weeks ago and the box was filled out with those inflated cushion things.
When we've had them in the past, I've always thought "I wonder how I can recycle th- oh, they're compostable corn starch type plastic. Great!" but this current load is regular plastic so won't be ending up in my compost heap. They're still better than polystyrene beads or other old school packaging though.
The plastic seems to be the same as supermarket carrier bags so I suspect they can be recycled in the same places as those.
But what about reuses? They seem to be holding their inflatableness quite well so I think one lot will be used as a bath pillow. Other suggestions?
(Apologies for the bad photo – it turns out it's quite difficult to photograph things that are clear… If you've not familiar with them, they're essentially inflated plastic bags. The ones we have are about 5x15cm (2x6inches) each and are in rows of 3 or 4 joined along the long edge.)
Related Categories
household
,
items
,
office
,
packaging
Search for other related items