How can I reuse or recycle plastic deli counter wrapping?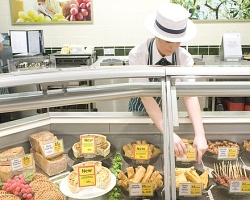 We've had an email from Iona:
The deli counter at Sainsburys insists on wrapping every item in its own yards of plastic wrap including multiple plastic sheets and then the plastic bag. Can they be recycled with carrier bags?
Plastic bags are usually made from polyethylene – which can be high-density (HDPE – resin code 2) or low-density (LDPE – resin code 4). I'm not certain – so please correct me if I'm wrong – but I believe the plastic bags from food counters are LDPE. LDPE is collected for recycling in many areas but you might want to check with your local council to see if you can add it to your doorstep recycling, or if you're using a carrier bag drop at a supermarket, see if there is any information on the box about that sort of thing.
Before thinking about reuses and recycling ideas though, try to reduce if you can. Ask them to use a single sheet if they must use one at all or swap to non-deli items with more recyclable packaging – although that's easier said than done because so many refrigerator items from supermarkets come in hard to recycle plastic. (Our little independent butcher in Leeds used as much plastic as any supermarket counter I've ever seen too.) I know some people (Mrs Green from My Zero Waste for example) take reusable tubs for the deli people to use instead – I suspect stores' policies will vary on whether or not they let people do this but it doesn't hurt to ask.
Has anyone any advice on getting the fresh food counter people to cut back on the amount of plastic or use tubs you've brought from home?
And are there any reuse ideas for plastic sheets etc?
Related Categories
household
,
items
,
kitchen
,
packaging
Search for other related items