How can I reuse or recycle … the plastic wrap from bouquets?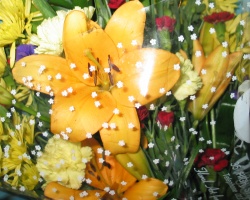 We've had an email from Ciara Fletcher:
My colleagues at work gave me a beautiful bunch of flowers for my birthday but it seems to be wrapped in about 10 yards of cellophane!! What can I do with it? It's mostly clear with a cute white flower design on it but I can't think what to do with it because it's so noisy!
If you grow flowers yourself, you could reuse it if you ever want to give a bunch to anyone else – but aside from that, I'm out of ideas. Any suggestions?
(Oh, and by the way Ciara, here are some suggestions for re-using the flowers when you're done with them.)
(Photo from Ciara)
Related Categories
items
,
packaging
,
Valentines
Search for other related items