How can I reuse or recycle … popped bubble wrap?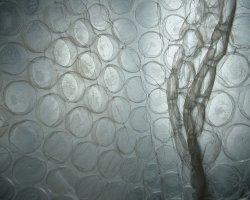 The moulded polystyrene post last week reminded me that we haven't thought about that other packaging staple yet – bubble wrap.
The most obvious re-use is to, well, just re-use it for its intended purpose again – but has any one got any interesting suggestions other than just packing up items for the mail or for storage?
And what if some dastardly scamp (usually me in our house) has popped all the bubbles? It loses its padding and protective qualities but I bet it can still be used for other things. Suggestions?
(Photo by fish)
Related Categories
household
,
items
,
office
,
packaging
Search for other related items