How can I reuse or recycle fake flowers?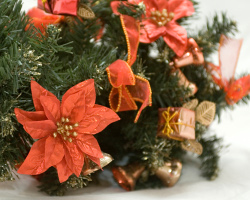 We've had an email from Marisa:
A bit of a weird one for you! My MIL is redecorating her living room and that means replacing her huge collection of fake flower bouquets to match the new colour scheme. I hate fake flowers but would like to save them from landfill if possible. Any suggestions?
If the flowers aren't too discoloured or dusty, offer them to your local charity/thrift/op shop for resale. If they are a bit too dusty for that, you could try cleaning them first – there are a variety of different ways to do it apparently, just be careful not to use hot water in case it dissolves the glue which holds them together.
As for reuses, a lot of people use smaller flowers/buds for decorating hair accessories/fascinators, or purses/bags. Larger flowers can be pulled apart for their petals and used to make a scaly (in a good, mermaid way, not a ill/reptilian way) effect for costumes or, again, as decoration for purses/bags.
Any other suggestions or specific tutorials?
(Photo by assiewin)
Related Categories
household
,
items
Search for other related items