How can I reuse or recycle microwaved plastic wrap?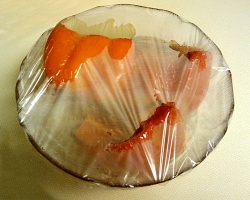 Over on Twitter, fairygirl25 (aka Elizabeth) asked us:
how can u reuse plastic wrap after u use it once in the microwave?
We don't use plastic wrap in the microwave so I'm not sure how it changes it to stop you being able to reuse it like ordinary plastic wrap/cling film/saran wrap again. Could anyone shed any light on that? Do you reuse plastic wrap?
(Instead of plastic wrap, we use lids or off-set plates on top of bowls for steaming/heat retention. That seems to work for everything we do in there – but admittedly that's not much. If you have a microwave, what do you use?)
As for recycling, plastic wrap is usually hard to recycle as it's PVC based (resin code 3) but some stuff is now LDPE (resin code 4) so may be accepted in some recycling facilities. Check on the packaging to find out what you've got and ask your local authorities for their advice.
Related Categories
household
,
items
,
kitchen
Search for other related items