How can I reuse or recycle Christmas gift wrap bows?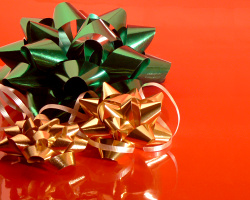 We've had a question from fishcake on our Suggestions page:
how can i recycle christmas gift wrap bows? I have a few bags worth and was thinking of decorating the fridge but maybe this site can find some more ideas.
There is of course always the option of donating them to a charity show or Freecycle for someone else to use for their original purpose but by the sounds of it, fishcake fancies reusing them at home.
In bow form, the only ideas I can think of are decorative like fishcake's own fridge idea – but I suspect there will probably more ideas for reuses if they can be opened out into a long ribbon thread than in their bow shape.
Anyone got any suggestions for the bows as bows and/or in opened-out ribbon form?
(Photo by dafunky1
Related Categories
Christmas
,
household
,
items
,
packaging
,
paper & stationery
Search for other related items