Perk up your garden with ash from Bonfire Night fires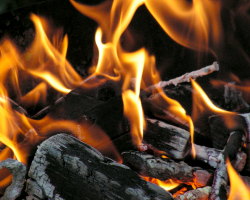 Tonight is Guy Fawkes Night in the UK – also known as Bonfire Night. Up and down the country, people will be setting fire to stacks of wood and sending millions of £££s up in smoke in firework form, just getting a short "ooh" and "aah" (and occasionally "arrgh!!") in return.
It's not all waste-waste-waste though – tomorrow morning, you'll probably have a substantial pile of ashes left over from your bonfire – and they're great for the garden:
Ash can be a slug deterrent
The dry, rough surface of ash particles can act as a deterrent for slugs and snails. Chances are, you're not growing much at the moment but you can scoop up the ash into a bucket, cover it/keep it somewhere dry so it doesn't get wet over winter, then bring it out again for use next spring for use around your delicate seedlings.
It also has the advantage of being…
A word of warning
If your bonfire contained a lot of painted, varnished or chemically treated wood, or included plastic waste, don't use it on your garden – the chemicals may contaminate your soil.
A soil neutraliser & fertiliser
Wood ash is alkaline so can help level out acid soils – some people dig it straight into their beds at this time of year so it will start to break down over winter while others cycle it through their compost bins first.
It's also great for balancing "green"-heavy compost heaps (for example, those which contain a lot of fresh green garden matter, scraps or manure – things that are said to be "nitrogen rich"). Balanced compost heaps rot down quicker and produce better compost in the long run.
As well as a neutraliser, wood ash from bonfires is often also rich in calcium and potassium, so help fertilise the soil as well as neutralise it.
Related Categories
garden
Search for other related items