How can I reuse or recycle charcoal ashes from my barbecue?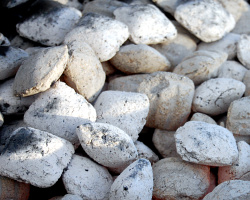 We've had an email from Rob asking what a million people up and down the UK will be asking given the recent rush of awesome weather:
How can I recycle charcoal from the BBQ?

At the moment it's still sitting in there but need to clean it out soon. Any suggestions instead of chucking it out?
As I've said before in relations to ashes from bonfires, ash from wood fires – untreated, unpainted wood – can be used in the compost heap or in the garden to bring down the acidity of the compost/soil (don't use too much though, then it'll get too alkaline).
But most of the charcoal briquettes that people use on barbecues tend to have random things added that you wouldn't necessarily want in your compost heap – so unless you know they're 100% wood based, it would be safer to leave them off your heap/veg plot.
So any there any things that can be done with them instead?
Related Categories
garden
,
items
Search for other related items