What can I reuse or recycle to make garden cloches (row covers)?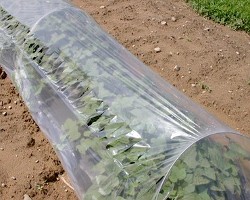 I thought we'd already covered this but apparently not!
At the weekend, I made some 4ft by 1ft garden planters from scrap wood – having a lot of fun and saving myself a heap of money in the process. I think I'll probably use them in our front garden – there are just a few scratty pots of herbs out there and planters like these (I may make a couple more) will make the currently dead space a lot more productive. Around here though, between the slugs & the dismal Yorkshire climate, things either need to be started as seedlings elsewhere or grown under row covers — cloches — for the first few weeks of their lives.
So what do you use for cloches? The tops of plastic bottles make great mini-cloches for individual plants – my dad uses the bottom of the bottles as seedling pots, the tops for seedling protectors when they're planted out.
But what about for larger areas? I might want to grow stuff in rows and had an idea to make some "hoops" on a made-to-measure frame and cover that with either clear but heavy-ish plastic (for example, the chickens' feed bags) or opened out plastic pop bottles (although I'd probably need a lot of them to make it work). Any other ideas? And suggestions for the hoops? I can find scrap wood for the frame but would need some metal strips or plastic tubing, or the like for the hoops – any ideas?
As I'm aiming to minimise my workload – and minimise the waste going to landfill each year – I'd like to make them not only from post-consumer waste but also make them to last for as long as possible — so any suggestions or advice would be greatly appreciated!
Related Categories
garden
,
reverse this
Search for other related items