How can I "pave" our garden using recycled things?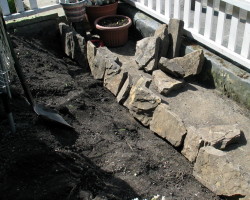 As I mentioned yesterday, and alluded to the other week when asking about how to make a recycling bin thing, John and I have decided to tidy up our garden. "Garden" is quite a grand word for it because it's really just a small yard that we've tried growing things in – but been unsuccessful because it's north-facing in a not exactly warm or sheltered part of the country.
Over the years, I've tried growing all sorts of bits of veg in the not even 2m by 3m soily bit but not had much success because of the north-facing-ness, the resulting slugs of doom and our horrible clay-y soil which even repeated emptyings of the compost bin hasn't really helped. I'm going to keep growing shrubs and anything else I can keep alive in pots but we've decided to "pave" it over so we can use the area in different ways (more space for drying clothes, entertaining friends and having space to do large scale, messy craft/building projects) – at the moment it's a good-for-little muddy mess.
For obvious reasons, we're reluctant to use newly cut stone for the job and have been on the lookout for patio flags that other people are replacing – but I'm wondering if anyone has any fun suggestions for us to use instead.
We've got some flat-tish pieces of york stone that we salvaged a few of years ago (they've actually been used as edging on the soil bed – shown in the picture the day we put it in) which we can use as crazy paving, but we don't think we've got enough for the full job. So any suggestions of things we can use to pad the paving out a bit? Or put between the cracks?
Related Categories
garden
,
reverse this
Search for other related items