5 fantastic recycling ideas for used tyres
Just because a tyre is too old and worn to use on a car, it doesn't mean that it's useful life is over.
Here's our top five reuses for used tyres.
1. Planters for the garden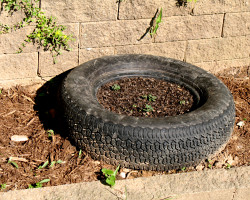 Used tyres can be used as instant planters in a garden – either wide and low containers on their own, or stacked up on top of each other to form higher planters. Some people think they're ideal for things that need earthing up (like potatoes) or forcing (like rhubarb) as you can add and remove layers as needed.
However, other people are reluctant to grow vegetables in old tires since they can leach chemicals used in their manufacture into the soil and into the food.
2. Cold frames
Alternatively, used tyres can be used to make quick and easy cold frames to protect young seedlings. Place a tyre on the ground (so the plants aren't sat on the cold earth) then place a piece of flat wood or some slats on top of that, and add another tyre to be the walls of the cold frame. Use an old window in a frame or piece of scrap perspex/clear plastic as the roof to let the sun in. For extra insulation/heat retention, fill the lower tyre and the walls of the upper tyre with straw or similar.

3. Entertain the kids – tyre swings, obstacle courses & sandpits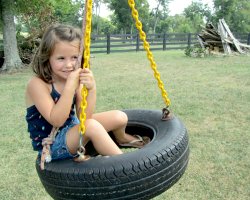 Tyre swings are lots of fun and easy to make – just add a strong branch, rope or chain and a happy child.
If you're using a well-used tyre, make sure to clean it thoroughly before swinging on it though – to avoid tyre blackeners & the like staining clothing.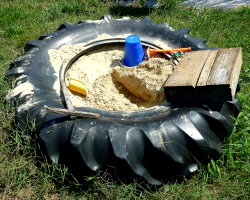 Alternatively, use them to make mini obstacle courses for kids in your garden.
Or if you've got a giant lorry/tractor tyre, they can be used for sandpits.
4. Trug
Tyres can be turned into handy trugs – low, wide baskets – for carrying produce and weeds around the garden.
The basic idea is to cut the tyre into sections and add handles – but there are a number of how-tos out there if you prefer more details — Marcos' post on Instructables is very clear and thorough.
5. Make them into rugged sandals – or knee pads
If you've made a trug or two, you might have some left over tyre – why not turn the rest into a pair of tough sandals?
Or as Marcus said on our original "how can I reuse or recycled old tyres?" post – make them into protective knee pads for when you're kneeling in the garden, planting out all the seedlings from your used tyre cold frames ;)
And don't forget, if you don't want to reuse them, others might: consider offering them on your local Freecycle/Freegle group, or find out from your local council/tyre merchant how you can dispose of them properly so that they'll be reused or recycled by someone else.
(Photos by TonyBuser, Steve Winton and krossbow)
Related Categories
5 fantastic reuses
,
garden
Search for other related items