What can I reuse or recycle to build a cold frame?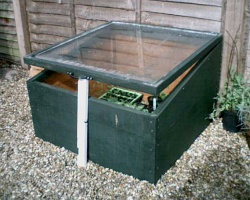 (I suspect they'll be an overlap between this and our previous question about making greenhouses but I thought I'd ask again because they're a bit different.)
I'm having lots of fun growing stuff in our new garden. The old garden was considerably small and got no (no!) direct sunlight whatsoever, which made growing things a little difficult. Here we get a lot more sun – in different spots throughout the day – and that's actually been a bit of a problem this summer – my current nursery area (the porch) has been getting a bit too hot for some types of seedlings. Next year, I'd like more nursery space generally too so I thought a cold frame would make sense.
Cold frames are one of those great DIY projects with more people probably building their own out of scrap than buying them new. But I've got a bit of builders' block – unable to think what to use. I've got my eye out for old windows or the like, and I nearly yoinked my best friend's old shower cubicle but it was way too big and would have been problematic to cut down – but aside from that, I can't think what else I might use for the clear parts. Any suggestions?
As for the frame, my dad built his latest coldframe using the frame of my old childhood bed (a divan, so a ready-made frame), which made me start thinking about other ready-made frames to make it easier for my weak woodworking skillz: we've got an old table that could be flipped upside down to provide a solid base and uprights – attaching stuff to them would probably be a lot easier than starting from scratch.
Another idea might be to build a brick frame – we've got some salvaged bricks around the places – but I wouldn't know how to hinge a lid to that. Hinging a lid isn't vital, just useful though…
Any other suggestions? Any pros/cons to brick or wood frames? What have you done?
Related Categories
garden
,
hobbies
,
reverse this
Search for other related items