How can I reuse or recycle used paper plates?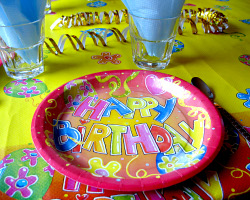 Finishing up our impromptu barbecue themed week, I thought I'd run a post that is sure to get some people screaming "DON'T USE THEM AT ALL! USE REAL, REUSABLE PLATES!!" – and those people have a very good point. The first part of the 3Rs is Reduce and disposable paper plates are really unnecessary in most situations – and also usually really frustrating to eat off.
However, they're still useful in some situations – for example, extraordinarily big outdoor parties, especially for clumsy kids or festivals etc – so it's probably worth thinking about ways to reuse or recycle them for those times when they're almost unavoidable.
Between food waste and the often synthetic wax/plastic coating used to make them moisture resistant, you don't really want them near your compost heap. You can get paper plates designed to be composted afterwards though – some made from thick paper, some from palm fronds, others from a light bamboo – just scrape off any large amount of food waste that might cause a problem for your heap. On our post about waxed cups, someone said you can recycle them at tetrapak recycling facilities – I would if this is true of waxed paper plates too…
Any other suggestions/advice? Or ideas for alternatives?
Related Categories
garden
,
items
,
kitchen
,
paper & stationery
Search for other related items