How can I reuse or recycle mouldy bread?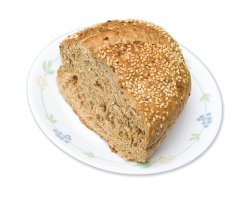 We've had an email from Milly:
I know about making breadcrumbs with stale bread but is there anything that can be done with bread that's gone a bit mouldy? I don't mean eat it of course but compost it?
Obviously the best thing to do is avoid it going mouldy in the first place – freeze it if you don't have time to use it up or turn it into breadcrumbs there and then. But sometimes loaves have a tendency to turn in a blink of an eye so it's harder to avoid.
Bread is one of those things that some people compost and others don't. It will break down quite quickly but in an open, slow going compost heap, it might attract vermin to the pile even quicker. It's also not going to add that much goodness to the heap either so you might decide it's not worth the risk. But then what do you do with it instead?
Any suggestions? Do you compost bread?
(Photo of non-moldy bread because looking for a photo of moldy bread was making me too queasy!)
Related Categories
food
,
items
Search for other related items